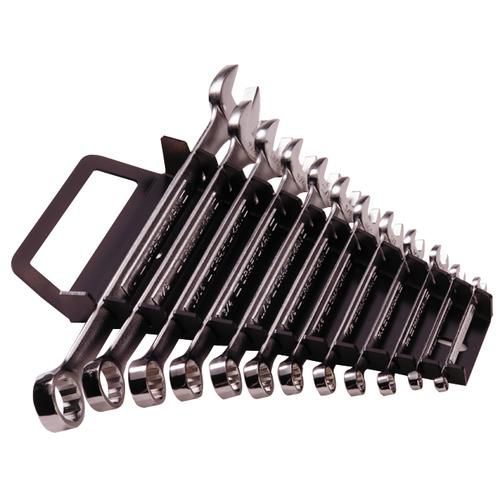 Vile Wrench Holder
I have fallen in love with
Orly Nail Rescue
. I bought it this past fall and used it a couple of times then, but it wasn't until now that I've gotten the hang of using it where I can get good results. The other day I was trying to pull out an 8 mm wrench from its wrench holder and wound up causing a break between the nail plate and the free edge for half of my nail.
I had two options:
1) Carefully remove the broken piece
2) Use Orly Nail Rescue and save my "long" nails!
Option one involved reducing the length of my nail by a little over 1/4th of an inch (yeesh!) so I chose option two. The
Orly Nail Rescue kit
, which I bought at Sally Beauty, includes brush-on glue, repair powder, and a little file. I haven't used the file because I find its shape awkward and hard to hold.
The kit is very easy to use. Simply paint a
little
glue over the crack, then dip your finger in the powder. I've found that if I complete three full cycles of glue, dip, brush off excess glue that the break will stay held together really well. It also helps just to put glue along the crack and not anywhere else on your nail.
Check out this before and after using the nail rescue kit:
Filing the glued area till it's level ensures that the fix is invisible under nail polish. Okay - sometimes it's a little lumpy (
look at my pinky and middle fingers in this post
) but I'd rather have lumpy that stubby. I've had this crack in my middle finger since December 19th and I'm pleased that I've been able to keep my nail long until I can file the nail to match the others.
I prefer this kit to the tea bag method because I suck at cutting bags that match the shape of my nail bed and I find that I file away the tea bag way too easily.
Have you used Orly Nail Rescue before? What are your thoughts on fixing breaks?